The Poggesi Difference
Poggesi is the discerning choice for superior style and quality
Elegance is the word that best describes Poggesi umbrellas. The beauty of these umbrellas is instantly apparent, but the overall appeal of this product can only be truly appreciated through firsthand use. Poggesi umbrellas utilize a patented opening and closing system that make them extremely simple to operate. From the non-intrusive design to their ease of use, Poggesi products are crafted for those who possess an appreciation for the comfort and sophistication provided by the world's finest umbrella system. A nearly limitless array of color and material options make it possible for customers to order umbrellas to suit any taste.
Versatility is another key feature of Poggesi umbrellas. The easy-open, multi-directional umbrellas, are secured by a locking system that maintains any desired position. Poggesi's special cantilevered supporting arm is located within the canopy, providing a remarkable combination of maneuverability and aesthetic appeal. Each umbrella is constructed to the highest safety standards while maintaining the convenience of use that has become a trademark.
Craftsmanship is a word that has become synonymous with Poggesi products. During the course of four-plus decades, Poggesi umbrellas have been handcrafted with a focus on quality materials, appearance, and attention to detail. While technological advances have been incorporated into the umbrellas, the meticulous workmanship that goes into each piece by the master craftsmen of Tuscany has remained constant. The workers who build Poggesi umbrellas have developed an art form that is gloriously reflected in the unique products they create.
Durability is key for any umbrella and Poggesi products are a rare synthesis of form, function, and sturdiness. The concept behind the Poggesi brand is simple — combine contemporary flair with traditional forms, and build to endure the test of time. The use of highly durable materials, woven seamlessly into a product that exudes elegances, makes Poggesi umbrellas strong and long-lasting, as well as pleasing to the eye.
Here are some of Poggesi's models:
Designed with a lateral pole, The King is the ultimate garden & al fresco dining umbrella and the most versatile and popular in the Poggesi line. This model is perfect for those who expect the utmost in quality and design. The King's rare decentralized support structure is a key feature of the superior quality umbrella. Its design ensures the maximum amount of shaded space free from intrusive and awkward poles and supports. For the private and public entertainer alike, this design and subsequent maximization of free space lead to the greatest flexibility in the configuration of outside dining chairs, tables, and the entire outdoor socializing area. The King features a unique gearing and opening mechanism that makes the King truly exceptional. This design allows the umbrella to be fully adjusted, tilted and lowered to me the demands of every situation. Finished to the highest standards, incorporating reinforced support ribs and raised stiff anti-wind bellows, the King is designed to stand firm and elegant against the elements.
Summer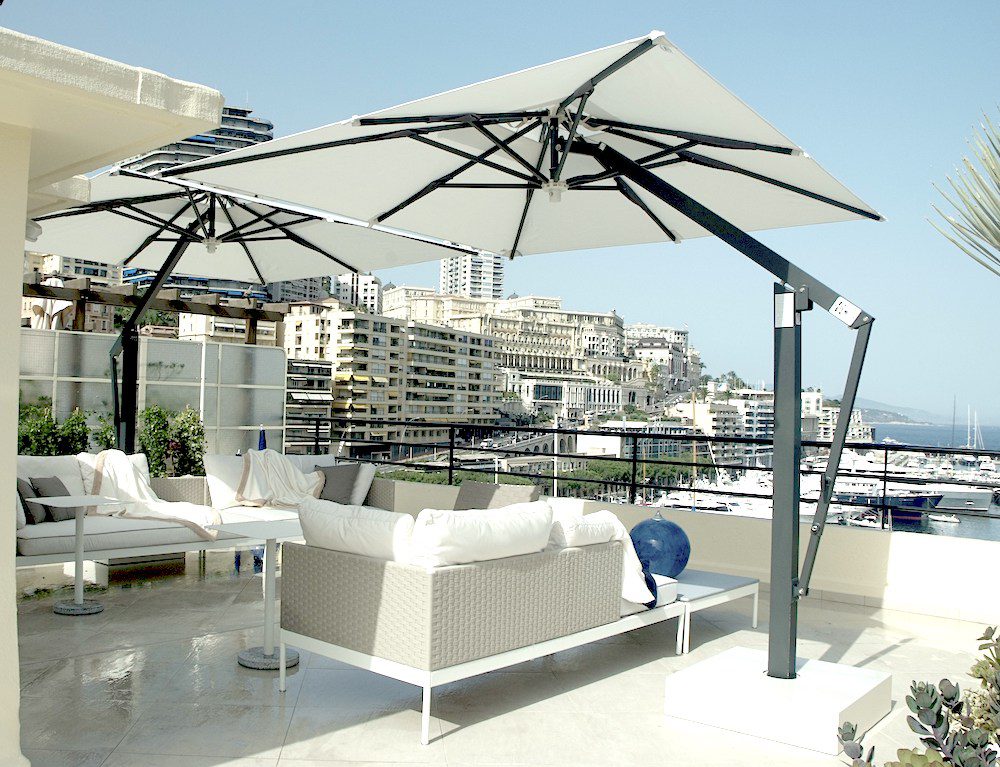 The Summer incorporates the modern and innovative design of the King with a manageable and lightweight support structure. Once opened, the canopy is fixed in position and, unlike the King, cannot be adjusted. The shaft and ribs of the Summer are available in four different colors to tailor the umbrella perfectly to its environment. The sky's the limit when it comes to fabric colors and selections. Choose the right size for you and you'll have, Poggesi, all the protection you need.
Magnum
The sheer size of The Magnum umbrella cannot fail to impress, reaching up to 27′ in diameter. Constructed in lightweight aluminum, the Magnum is ideal for providing expansive, commercial-grade open-air coverage quickly and easily. Developed specifically with public spaces, restaurants, and bars in mind, the Magnum features an innovative mechanism ensuring that surrounding furniture does not obstruct its path when the umbrella is opened and closed. This mechanism enables the Magnum to lift itself effortlessly above its surroundings as it is adjusted, meaning neither the umbrella nor the furnishings require moving throughout the 'al fresco' season. Exceptional design innovation, quality construction techniques and the finest attention to detail ensure that the Magnum will make successful outside entertaining significantly easier. This model is perfectly suited to any situation – from the simplest outdoor patio, beachside bar or an elegant four-star restaurant.
Quality of Materials
The beauty of Poggesi products is immediately apparent, but there's much more to these umbrellas than just a pretty face. The umbrellas are handmade using the highest quality materials and strictest attention to detail.
Stainless steel nuts and bolts and structures in aluminum ensure that Poggesi umbrellas will remain resistant to corrosion. Enhancing the durability of the aluminum parts are polyester-based thermosetting powder coatings.
Array of Colors, Materials & Forms
When it comes to expressing your personal style, Poggesi products come in a nearly limitless array of fabrics and trim options. All Poggesi products can be customized to suit your individual taste and reflect your personality.
Certificate of Origin
Each structure is manufactured entirely in Italy by Ombrellifico Poggesi. The quality of craftsmanship that goes into Poggesi umbrellas is immediately apparent. The company's belief in its umbrellas is so strong that it provides a certificate of guarantee and origin that accompanies each piece. Poggesi's craftsmen take great pride in their creations. Many of the design elements that make Poggesi umbrellas unique are patented to protect their originality.
Accessories Upon Request
Custom side walls of fabric sheers, canvas or transparent vinyl can partly or wholly close off the perimeter. These umbrella walls are attached with snap hooks and are provided with a zipper to join the sides together.
A large central transparent window is available as a wall option.

Each umbrella can be supplied with a zippered gutter that can connect it to another umbrella.
Customization Expertise
Poggesi personnel is always available to offer technical assistance as well as providing expertise in helping customers choose structure configuration and color, customized fabrics and valance style. Customers can then further personalize their umbrella with special imprints, logos, or monograms, allowing them to own a unique product, made just for them, that fits perfectly with the aesthetic qualities of their outdoor space. With more than 40 years of experience, the Poggesi history is one of unparalleled expertise in the manufacturing of umbrellas.
For more than five decades, Poggesi umbrellas have been handcrafted in Italy with meticulous attention to detail. In a factory in Tuscany, near Florence, skilled craftsmen custom-make each umbrella to order utilizing the proud traditions that are inherent in Italian design and heritage.
The elegant styling, an unending choice of fabrics and sizes, expansive coverage area and quality materials combine to make Poggesi the ultimate choice in luxury umbrellas.
Poggesi umbrellas can be seen in the USA at commercial venues, primarily to provide a comfortable, primarily to provide a comfortable atmosphere for outdoor dining areas and alongside hotel swimming pools. In a natural progression, their unique appeal has resulted in the introduction of Poggesi umbrellas to the residential market.
The stately, striking appearance of Poggesi umbrellas makes an immediate impression. Closer inspection reveals the ingenious functionality that goes into the manufacturing of these beautiful shade providers. The innovative use of lateral and cantilevered pole positioning frees up the maximum amount of space under the umbrella for what they were intended – to provide a luxurious retreat from the elements. Designed to be sturdy under all conditions, homeowners have the option of utilizing Poggesi umbrellas as temporary shelters or bolting them in a permanent location.
In Italy, Poggesi umbrellas have become synonymous with the 'al fresco' lifestyle of the Mediterranean. These sunshades are commonplace in the public spaces of the most prestigious cities, villages, piazzas, and gardens, adding a touch of elegance to any venue where outdoor socializing takes place. Poggesi Umbrellas offer homeowners the ultimate in outdoor comfort, a beautiful accessory for those who truly appreciate stylish outdoor entertaining.