Cantilever Umbrellas Buyers Guide: Everything You Need to Know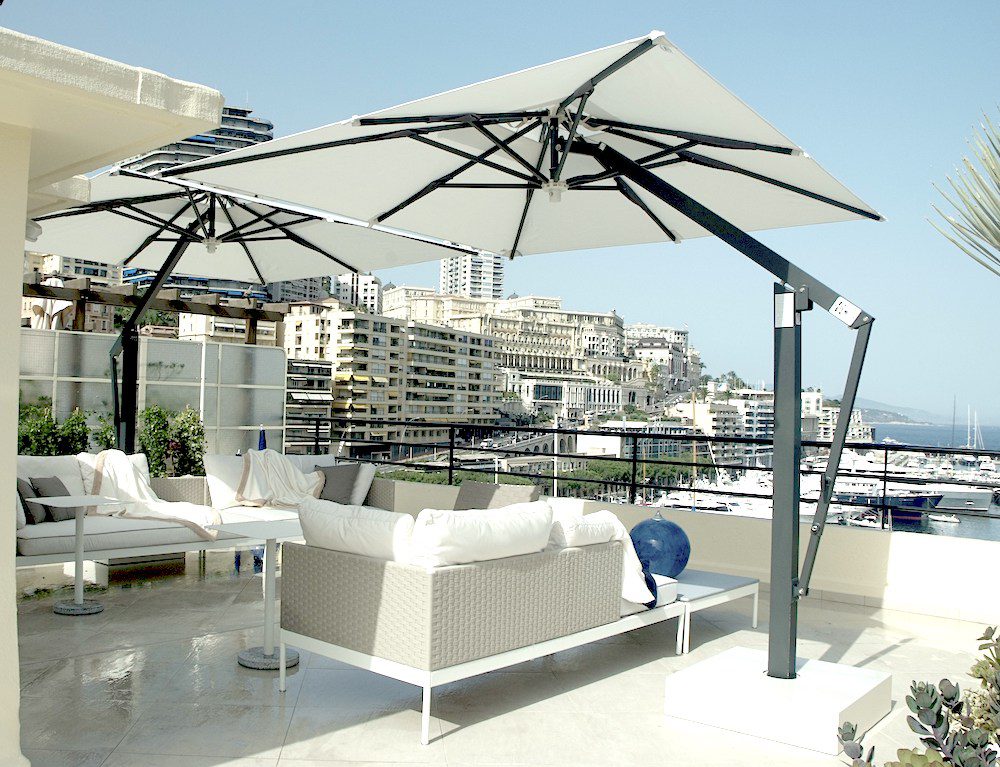 There's a lot to be said for cantilever umbrellas and the manner in which they give way to wide open, uninterrupted space. They are dreamy, floating elegance, offering seamless views, maximum shade, and smooth adjustment. Combine all this with the artisanship and quality you receive with Poggesi, and you're in for residential or commercial patio cantilever umbrellas that represent pure refinement.
Join us for our buyers guide as we help you get to know the beauty and functionality of the cantilever umbrella. The cantilever is less traditional, sure. But the innovation, clean lines, and easy operations make it an umbrella for modern-day style and use. Keep reading to learn more about these superior, graceful canopy additions.
Should questions arise, please know that a Poggesi Shade Specialist is waiting to assist you.
The Perfect Cantilever Umbrellas for You
What Is a Cantilever Umbrella?
When we designed the cantilever umbrella, we drew inspiration from construction sites. Truthfully. What would it look like to somehow suspend a sleek canopy above a table or lounge area? Might we use a beam (a girder, say) that extended out, essentially giving the illusion that the umbrella rested on the air itself? And so, cantilever umbrellas were born.
The supporting pole is "behind-the-scenes." Unlike traditional patio umbrellas, there's no pole making its way down through your table, no massive umbrella base to dodge as you relax and visit beneath. Cantilevers allow for unobstructed views, intimate interactions, and optimal protection.
Advantages: Commercial & Residential
Commercial Cantilever Umbrellas
Your guests have probably enjoyed an early outdoor dinner at your acclaimed restaurant or waited for cocktails at your five-star resort with the scenic waterfront or mountain views.
But wait, what is this? A thick, dark pole runs up the middle of the scene, slicing the waves or hills in half. Worse still, the couple or party have to dodge it as they chat over drinks, their meal, and later, dessert. The cantilever umbrella removes such a barrier from the patio equation. (You're welcome.) After all, the experience is what your guests are after. You should probably do all you can to make it perfect.
With cantilever umbrellas, you also have more opportunity for unique spaces at your hotel, spa, winery, bar, restaurant, museum, etc. You suddenly have the freedom to include a variety of chairs, tables, sofas, and even large cushions, hammocks, or plants. There's no pole in the middle of everything, remember? Your guests might decide to stand and stretch, eventually sharing a sweet slow dance at sunset without a hitch. Sounds pretty magical. Cantilevers are, indeed, magical. In fact, they seem to defy gravity.
Residential Cantilever Umbrellas
Further, you've probably hosted summertime parties or barbeques on your patio. Everyone gathers around the outdoor table, nestled under the wide, comforting wings of an umbrella. But hold on: what's this? I can't find room for my feet with such a bulky umbrella anchor base, and there's absolutely no chance of playing footsie with the handsome devil seated across from me. To boot, as that daystar sinks, half of the dinner party squints in the strong, late sunlight. It's too much trouble to reach over everyone and make adjustments. So, now, I can't even see the handsome devil.
Sound familiar? Maybe parts of it do. With a cantilever umbrella, you'll toss these issues into the wind.  The cantilever canopy is easily adjusted; you won't be a spectacle wrestling with an unwieldy umbrella right in the middle of cocktail hour. And the base? It'll be out of sight and out of mind.
So, no massive base? No metal rod rudely jutting up between your conversations? That's right. Your family and friends can move about, pass the salt, and play footsie with ease.
Poggesi Types & Sizes
You'll find similar types and sizes among our competitors and even in home goods stores, but you won't secure the quality, craftsmanship, and enduring element that Poggesi cantilever umbrellas afford. Have a look at our premier cantilever collections below. Keep in mind as you review these that customized options are available.
King Collection
The Poggesi King Collection offers cantilever umbrellas that are both resplendent and practical. The span may stretch up to 16 feet while the de-centralized, patented structure rests well away from furniture, guests, etc. If you have non-removable pieces in place, cantilever umbrellas may be introduced to your setting with ease. The King Collection is ideal for restaurants, large decks, and any space demanding adjustable coverage.
One Collection
With the Poggesi One Collection, you'll meet with luxurious, timeless style and encounter spans up to 13 feet. Once again, it's perfect for spaces bearing uncompromising furniture regulations or logistics. Bistros, plazas, city tasting rooms, country clubs, and even large, flourishing garden retreats: this could be exactly what you're looking for.
Summer Collection

Poggesi's Summer Collection features soft bellows and may span up to 13 feet. These cantilever umbrellas are suited to poolside lounges, garden terraces, deck seating, sidewalk cafes, and more.
Durability
We understand that durability is high on the list of important factors when buying cantilever umbrellas. Though you might consider purchasing a cheaper option, in the long haul, you'll be glad you opted for high-quality, proven materials. Poggesi cantilever umbrellas are built to stand the test of time.
You have to remember that Nature doesn't play favorites. She won't decide to leave your patio alone simply because it looks so beautiful and peaceful and perfect. So, it's up to you to prepare in the right way. Choose a cantilever umbrella you can depend on. Poggesi employs fine materials (Sunbrella fabrics) that repel precipitation in its various forms.
Understand that the structure of your cantilever umbrella must also endure the elements. Rust and other types of build-up and grime usually become issues that affect both visual appeal and overall function. Poggesi products boast aluminum type 6060 or 6500, which is accepted as the best quality material in the business.
Fabric & Style
As previously mentioned, Sunbrella is Poggesi's fabric of choice. You'll find that it comes in a variety of marine-grade fabrics, and a 10-year warranty against color fading accompanies any purchase. Further, the Skin Cancer Foundation gives them the seal of approval, making them the obvious and best selection on the market.
As for color and style, you have the chance to embrace both neutral and bold tones. Choose what you like: soft Basil, surprising Buttercup, or warm Terracotta. You'll be pleased to see that we give attention to detail. In fact, Poggesi cantilever umbrellas are superb down to the intricate, thorough stitchwork. It's a difference you can see and experience.
View a list of all our fabric and color options.
Accessories & Options
Close your eyes for a moment. Picture yourself on your residential or commercial patio. What's missing? Perhaps you require LED lighting for the evening crowd. Can't you already see the slim glasses brimming with ice and delicious libations below? What about the glint of a new bracelet, a gift for the birthday girl? Illuminate your cantilever umbrellas!
Maybe you need a mobile cantilever. In this case, you'll need wheels so that you may roll your canopy with ease. This works great if your outdoor living space or dining area incorporates sections, such as a hostess desk, mini-bar, picnic tables, and lounge chairs.
Price
It's the point many of us like to discuss first, and we say it certainly matters when you're shopping for cantilevers. We're firm believers in the fact that you pay for quality. If you want the best cantilever experience possible, consider an investment that will withstand time and the elements. Poggesi products represent the best in the industry.
Though you're more than likely thinking of your budget, don't forget to think of the long-term. When you spend more, you gain more. When you spend less, you're normally settling for less.
Since our umbrellas are made to order, there are lots of other prices and options available, simply contact a shade expert to request a quote.
Functionality
Your Internet searches have probably loaded you down with options, so you're looking to see a cantilever umbrella in action. Watch the video above to see for yourself the fine Poggessi features, as well as the smooth design and operation.
Do you need 360° rotation, height adjustment, and tilt control? Our cantilever umbrella offers it all. They're also durable, safe, and heavy to ensure stability. Once again, consider wheels if you're planning to shift your cantilever around at all.  A Poggesi specialist is happy to discuss special, extensive functions and customized designs with you today.
As you can see, you'll be able to easily open and close your cantilever umbrella, quickly covering spaces that require shade, protection from the elements, and even just a bit of colorful character.
Care & Maintenance
We encourage you to ask questions now, that way there's no confusion later on. A large part of your umbrella investment is maintenance. If you're ordering a cantilever umbrella that is difficult and even expensive to clean, then you're probably going to regret the purchase on down the line.
Fair warning: companies that avoid answering your care and maintenance questions are dodging the subject for a reason. Either they have no advice (which is both ridiculous and alarming), or they realize the steps will halt the transaction (also ridiculous and alarming).
Always peruse a company's warranties because quality products come with them. If you've got a guarantee, you know you're dealing with a trusted seller, a group of careful craftsmen who believe in their product and mission. You certainly don't desire to be stuck with a problematic and/or failing cantilever umbrella. Umbrellas are supposed to protect us.
Safety
Speaking of protection, safety is above all else when it comes to Poggesi cantilevers. An umbrella signifies shelter, one of our most basic needs as humans. If you can't get the safe structure part right, you have no business making or selling cantilevers.
But at Poggesi, we do "get it right." Every time. With each of our umbrellas, we're extending dedication and careful attention to the details. In addition to studying warranties, don't skim over sections about safety features and designs. Collapses and topple-overs occur every year, and sometimes in these cases, people are seriously injured.
Poggesi is TUV certified. We know you're depending on us to provide a secure canopy for optimal comfort. We're always seeking to improve and working to meet the latest international safety regulations.
Reach Out Today
Contact a Poggesi Specialist today. We're ready, willing, and happy to help with inquiries, discuss your ideas, and see that you get exactly what you need.